Making small business websites stand out
Building affordable websites that are delivered on time, on budget and optimised for SEO.
Web design in Adelaide for small businesses

4.9 stars. 99 happy customers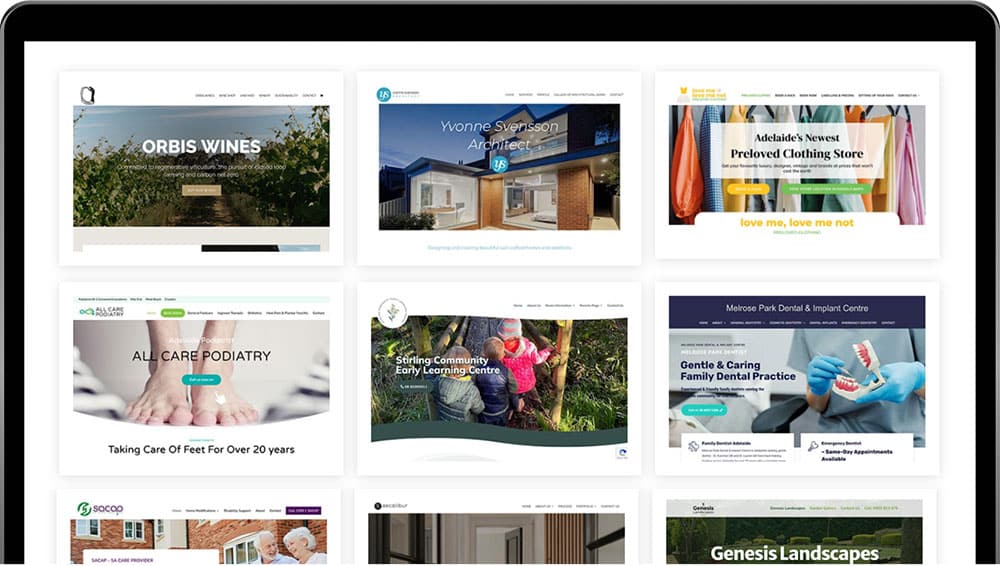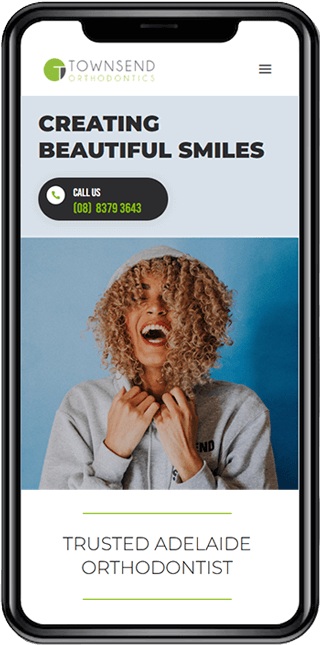 Making small
business websites
stand out
Building affordable websites that are delivered on time, on budget and optimised for SEO.
Web design in Adelaide for small businesses

4.9 stars. 99 happy customers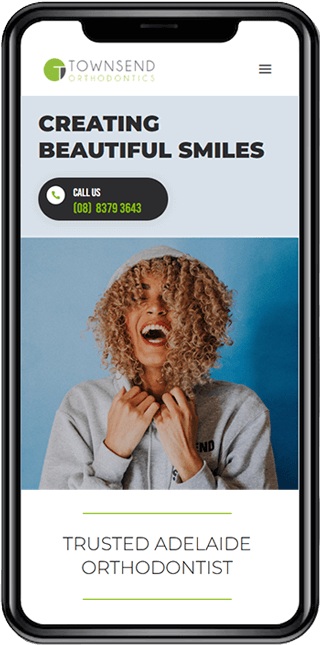 Providing affordable website design for small businesses to grow online.
Website Adelaide builds SEO optimised, high performing small business and eCommerce website design. We have provided web design for over 500 small businesses in Adelaide and across South Australia. All web design work is done locally, no outsourcing abroad.
A well-designed website should not only look good, but should work hard for you, attract more visitors and drive sales.
Website Adelaide is a leading local Adelaide web design company that prides itself in building modern, professional and high-performing website designs for small businesses that want to increase their online presence and ultimately grow revenue.
With our effective Adelaide web design, we serve a range of customers in different sectors, including professional services, building & construction, health & medical, manufacturing, travel, hospitality, accommodation, education, lifestyle, e-commerce, shopping online and art.
Awarded Adelaide web design specialist
As an awarded Adelaide web design specialist, we know that several website design factors need to be met for a website to perform online effectively. In addition, search engine optimisation, SEO, is the process of increasing your website ranking. Website Adelaide always considers effective Adelaide SEO from the start of the web design project and not as an afterthought.
Additionally, we offer SEO content writing services for your website to captivate and engage potential customers while ensuring search engines recognise your business, products, and services.
"Web design Adelaide award winner & Top Google reviews"
With over 500 websites built
you are in good hands
Website design portfolio with websites built by Website Adelaide
All our websites are built in WordPress; they are easy to update, can grow endlessly and are SEO friendly. We have built over 500 websites for South Australian businesses and are continuously launching new websites every month.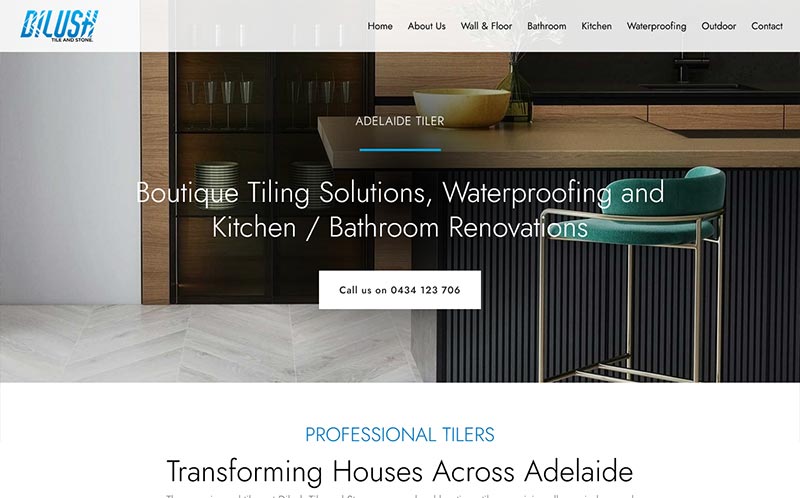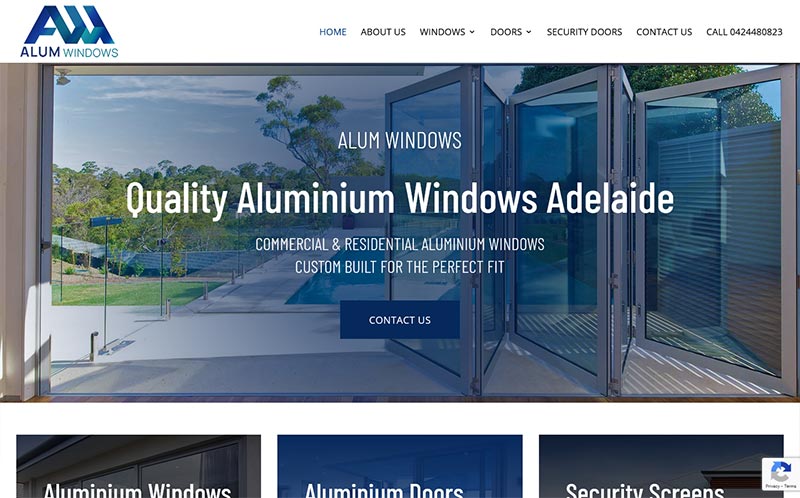 Web design prices, copywriting, SEO services, website hosting and strategic marketing consultancy
Affordable custom WordPress websites for sole traders – professional and budget-friendly packages available.
From $1,100 + $275/page incl. GST
Customised website built in WordPress
Home page / starting page
Unlimited pages, $275 incl. GST / page
Website can grow endlessly
Contact form on all pages
Slideshow up to 5 images
Links to social media
Gallery page up to 20 images
Live Google map
Mobile Friendly – Responsive design
Easy to edit WordPress / Divi system
Video Tutorials
Full ownership and admin rights
From $3,300 incl. GST shop package
Customised website built in WordPress with Woocommerce as ecommerce system
Home page / starting page, About us page, Contact page and one more page included.
Unlimited number of products and categories (5 added by Website Adelaide)
Website can grow endlessly
Contact form on all pages
Slideshow up to 5 images
Links to social media
Live Google map
Mobile Friendly – Responsive design
Easy to edit WordPress / Divi system
Video Tutorials
Full ownership and admin rights
Small Business Website
Still for small business but with larger scope and many stake holders envolved.
Starting from $4,400 incl. GST
Customised website built in WordPress
Can grow endlessly
Contact form on all pages
Slideshow up to 5 images
Links to social media
Gallery page up to 20 images
Live Google map
Mobile Friendly – Responsive design
Easy to edit WordPress / Divi system
Video Tutorials
Full ownership and admin rights
Compelling storytelling and performing website copywriting (on-page SEO)
Starting from $660 incl. GST
Our copywriter Colette will write website content for your target audience and tailor the messaging for better engagement and conversions. She will effectively communicate your unique value proposition and incorporate your target keyword phrases throughout the website for better on-page SEO to improve website visibility and drive organic traffic. With her expertise, she will craft compelling calls-to-action that prompt visitors to take desired actions, whether purchasing, subscribing to a newsletter, or contacting your company. Colette can help elevate your brand's voice and increase your online success.
On-page SEO services for small businesses. Helping businesses to be found on Google and increase their online organic traffic.
Starting from $550 incl. GST
In this ever-evolving digital landscape, being more visible online is crucial. Therefore it's critical when you have your website built to understand as much as possible how Google thinks. Gone are the days of trying to outsmart search algorithms with keyword stuffing, as Google's sophisticated algorithms now prioritize user experience and genuine engagement. Embrace an approach with in-depth, valuable content, and providing a great user experience with frequent updates will improve your search rankings. This is only the beginning of good SEO to establish your brand as a trustworthy authority.
SEO support with 1-on-1 consulting service. We'll focus on fixing any missing on-page SEO ranking factors to improve your search engine rankings.
From $165/hour incl. GST
Want to be more visible online? I can help you improve your website's SEO to rank higher in search engine results pages (SERPs). I will work with you to identify your target keywords and then optimise your website's structure and all technical aspects. I will show you what new and more content you need that is relevant to your target keywords and will help Google rank your website higher in search results.
Ideal for businesses open to transforming their current marketing approach and seeking an experienced senior strategic marketing leader to drive business growth.
Hourly work, monthly retainer options, or project-based.
We offer reliable website hosting in Adelaide in collaboration with Dezyne at an affordable price of just $88 per year.
Hosting services for $88/year
Hosting services with Cpanel included so you can set up unlimited emails to fulfil all your communication requirements. Enjoy peace of mind with our strong virus protection and complimentary virus removal, if necessary. Your website's security is further fortified with daily backups. Making the switch is easy and we gladly offer free transfers from your previous hosting company in most cases.
At Website Adelaide, we're dedicated to putting our clients first. With over a decade of experience providing top-notch web design services to South Australian businesses, we're here to help. Get in touch with us today by calling 0431 774 337 and let us support your business' online success.
Get your new website built with confidence
Fast-track your new website
We can register your domain name, set up hosting, write the text content and build you a great working and mobile friendly website in a short space of time. Contact us and we will give you a latest launch date depending on the number of websites in the pipeline.
Face-to-face video chats during website enquiry and building process
Rather than costly meetings, we will efficiently talk over phone, Skype, Facebook or Zoom when convenient for you, and go through all the questions you may have before you get started.
Your local small business website designer, no outsourcing abroad
All web design work is done locally. You will always have direct contact with the owner and website designer here in Adelaide when your website is being built, and of course after it is finished.
High quality built mobile friendly website and technically up to date
WordPress built website with the top rated builder Divi theme, you will have a mobile friendly, on-page SEO optimised website which is easy to add content, expand functionalities and change at any point of time.
Adelaide web design by Website Adelaide
We are passionate and skilled in building website designs for local businesses. All of the services we offer are local, and we don't separate website design and SEO – they go hand-in-hand and are considered from the start. In short, our website services are integrated in such a way that they will always focus on providing you with a high-performing business website.
As a small, skilled, and nimble team located in Adelaide, we deliver successful web design and eCommerce solutions alongside our clients. We work with a unique approach that will save you time – our meetings typically take place online via Skype, Teams, Facetime, or phone. If you need help from a local web designer in Adelaide, we are here for you.
Web design Adelaide
If you are looking for a local web designer Adelaide with proven success, we have provided local web design for businesses located in Adelaide City, Adelaide North, Adelaide East, Adelaide West; from Glenelg to Brighton to Hallet Cove and Lonsdale, from Port Noarlunga to Seaford and Moana, McLaren Vale and across Fleurieu Peninsula.
Website Adelaide is a highly experienced web design agency and we've been voted Top 3 website designers in Adelaide for the last 5 years because we know what it takes to deliver a great looking & high performing website that doesn't cost the earth.
Website Adelaide introduces a new partnership option with Mikael Svensson, strategic marketing consultant, designed specifically for small businesses (typically 5-20 employees) with the opportunity to collaborate with a senior strategic marketing leader, aiming to take your business to the next level of growth.
Choose between hourly work, monthly retainer options, and project-based work.
Perfect for companies that want broader commercial and strategic marketing expertise to guide your business or organisation going forward.
General information about our web design services.
General questions about web design Adelaide.
display none
Your content goes here. Edit or remove this text inline or in the module Content settings. You can also style every aspect of this content in the module Design settings and even apply custom CSS to this text in the module Advanced settings.
What is web design Adelaide?
Web design Adelaide is a highly relevant and sought-after search term used by potential clients in search engines when they are seeking agencies or website developers to create a website for their businesses. As a critical keyword phrase, "web design Adelaide" holds immense importance for agencies to establish their online presence and showcase their expertise in offering top-notch web design services.
When prospective clients use this search term, they are actively looking for agencies that understand the unique needs and preferences of businesses in Adelaide. As a result, agencies must seize the opportunity to thoroughly explain their capabilities and demonstrate how they can cater to these specific requirements.
By crafting detailed and informative content around "web design Adelaide" agencies can showcase their understanding of the local market, highlight successful projects they have undertaken for businesses in the region, and outline the unique benefits they offer. Emphasising factors such as responsive design for mobile users, SEO-friendly practices, and user-centric design can further reinforce their expertise.
In summary, "web design Adelaide" is much more than just a search term; it's a gateway for agencies to connect with potential clients actively seeking web design services in the region. By providing comprehensive explanations and showcasing their capabilities, agencies can position themselves as the go-to solution for businesses in Adelaide looking to elevate their online presence and succeed in the digital landscape.
What's involved in web design, and why is it crucial for my Adelaide business?
Web design refers to the process of creating and arranging the visual elements, layout, and overall aesthetics of a website. It's essential for your Adelaide business as it directly influences how users perceive your brand, affects user experience, and plays a significant role in driving conversions and online success.
How much does it cost to engage a web design Adelaide agency?
The cost of engaging a web design Adelaide agency vary based on factors like the size and complexity of your website, the features you need, and the web design agency you choose. It's best to discuss your specific requirements with different agencies to get accurate quotes tailored to your needs. The cost is likely to differ depending on if you are a small business or a large corporation.
How long does it take to complete a web design project in Adelaide?
The timeline for web design projects in Adelaide can vary depending on the scope and complexity of the website. Generally, it may take a few weeks to a several months from initial planning to final launch. Clear communication and collaboration with your web design team can help streamline the process.
Should I choose a local web design Adelaide agency or consider remote options?
Both local and remote web design agencies can offer quality web design services. A local agency may have a better understanding of the Adelaide market and local preferences. Consider your specific needs and priorities before making a decision.
How can I ensure my Adelaide website design is mobile-friendly?
To ensure your website is mobile-friendly, employ responsive web design techniques that allow it to adapt and display properly on various devices and screen sizes. Regularly test your website on different mobile devices to identify and fix any issues.
Can I update and maintain my website design on my own, or do I need ongoing support?
Depending on your technical expertise and the complexity of your website, you may be able to perform basic updates. However, seeking ongoing support from web design professionals ensures consistent performance, security updates, and timely improvements for your Adelaide website. At Website Adelaide, we build all our websites using WordPress, a highly regarded website builder system known for its user-friendly interface, extensive customization options, and robust plugin ecosystem, making it an excellent choice for building versatile and powerful websites. With over 455 million WordPress websites, it is the biggest content management system (CMS) in the world.
How can I make my Adelaide website design rank higher in search engines?
Improving your website's search engine rankings in Adelaide requires a combination of on-page SEO practices, keyword optimisation, quality content creation, link building, and local SEO strategies. Working with an SEO consultant can help you develop a targeted and effective approach.
What role does branding play in web design for Adelaide businesses?
Branding is a crucial element in creating web design for Adelaide businesses to create a unique identity and brand experience for your audience. Consistent branding across your website design enhances brand recognition and fosters trust among your customers.
How can I track the performance of my Adelaide website?
Implement tools like Google Search Console and Google Analytics to monitor and measure various website metrics, including traffic, user behavior, conversions, and more. Analysing this data will help you make data-driven decisions and optimise your Adelaide website for better results.
Is web design a one-time process, or should I update my Adelaide website regularly?
Web design is an ongoing process. While the initial design sets the foundation, regular updates, content refreshes, and improvements are essential to keep your Adelaide website relevant, user-friendly, and aligned with changing market trends and business goals.
Web design Adelaide
Website designer in Adelaide and SEO consultant
Hi, I'm Jarka and the owner of Website Adelaide. Website Adelaide is specialised in building websites for small businesses in Adelaide, South Australia.
I'm extremely excited to show you our web design services and how we can help you to build a high performing and SEO friendly website for strong organic growth. With over 10 years of providing local web design for Adelaide businesses, we are passionate about putting our clients first. And why is that? Because I know how much your business website means to your business.
Website Adelaide's proposition to you is that we will always combine web design with SEO in mind from start, it needs to be thought in the beginning and done together. Not later.
We will always combine modern and responsive web design with on-page SEO in mind from the start to ensure you have a great looking website that performs well in search results.
We would love to work with you on your website design project.
Focused solely on helping small businesses with cost-effective website solutions, we appreciate the pressures of running your own business and just how many different roles you must perform. That's where we can offer a total website design package where we write the text for you as well at a highly competitive prices.
We take care of everything so you can focus on running your business. We'll listen to what you want, talk about what your business has to offer and then come back to you with all the content to fill the pages of your website. Once you are happy with your content, we'll then build you a fully flexible WordPress website that can grow endlessly with your business.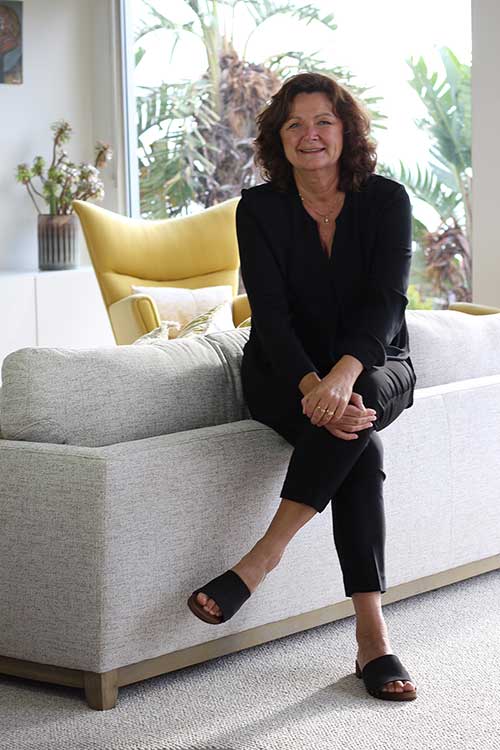 Do you already have a website?
Get a free website audit
Completely free, I will go through your website to find ways to improving your SEO and conversion rate.