ADELAIDE WEB DESIGN services
for small businesses in South Australia
Website Adelaide is a leading Adelaide web design studio specialising in helping small businesses in Adelaide and across South Australia with sales effective web design services, eCommerce websites and SEO coaching.
Adelaide web design services
Website Adelaide offers a range of Adelaide based website design services. If you are thinking about starting up a new service business, selling online, or you may be a small business owner who has been thinking about how you can take your existing website to the next level, then Website Adelaide is here to help you.
Most business owners who are thinking about buying web design services or building an eCommerce website will ask questions about the cost, what options do they have when it comes to web design and is there a checklist they can follow to better understand the website design process.
As you search on the word Adelaide web design, this page will outline a comprehensive list of information you may find useful when deciding on an Adelaide web design company who can help you to excel your online visibility and sales growth.
Single page website design
Multi page website design
What's included in the website prices?
Our website design process
Website cost kept low, transparent and fixed prices, no hidden fees. Your new website could be launched within the next month.
Small Business Websites
Professional yet affordable priced custom built websites
WordPress Website Packages for sole traders
Ecommerce Websites
Sell your products online
Ecommerce Website Packages
Business Website
Still for small business but with larger scope and many stake holders envolved.
Website SEO Coaching
1-2-1 SEO coaching where we analyse your current website and work on solving the missing on-page SEO ranking factors.
Single page website, also called one page website
If you don't have much website text and information, then a single page website could be a good start for you.
Single page website design
Single page websites / or sometimes called landing pages are getting more and more popular. A single page website is perfect for a business that needs something up and running quickly to have some internet presence. Still, they are also user friendly when people visit the website from a mobile or a smaller device. Instead of clicking on the menu to visit another page, they will scroll and stay on the same page.
With a single page website, you can focus on quality and not quantity.
Single page websites are, therefore:
Suitable for smaller websites and websites with very little text content
Better SEO when the website does not have more than 500 words per page
Focused on call to action and getting the message across rather than a very informative website
Mobile friendly as the visitor does not have to keep changing page
The website can quickly grow in the future
Google likes a website that is a few years old and not a new one. Register a domain name, build a single page website as soon as you can, and in time build a more extensive website to rank higher in Google. Plan for the future!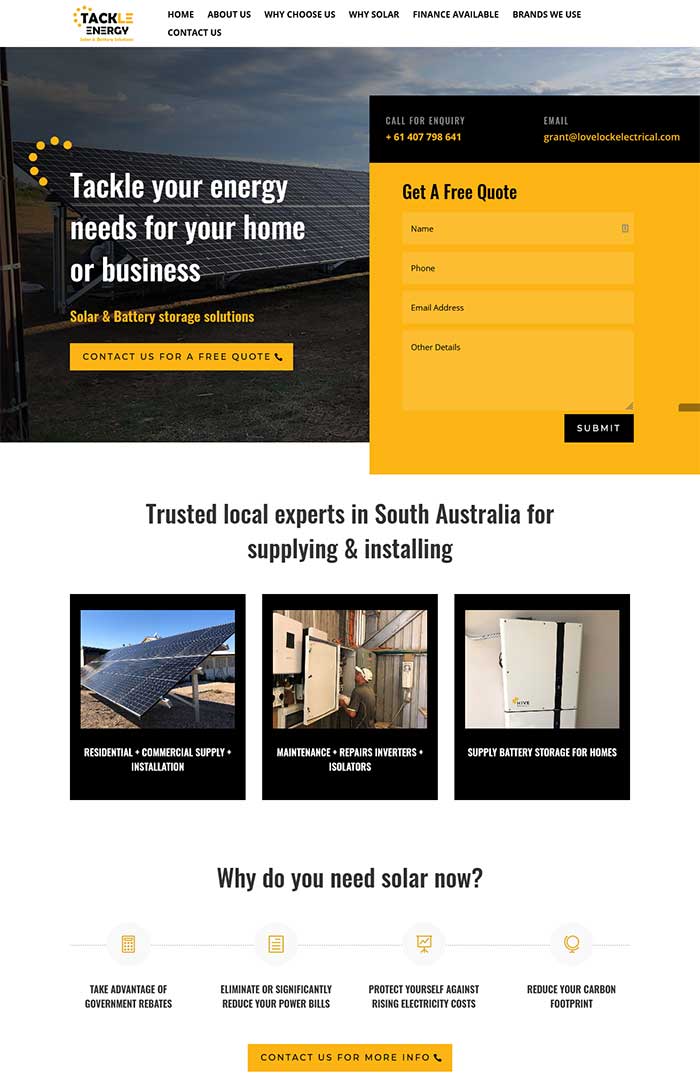 Multi page website design
Whether you are a small business, sports club or community organization, our team will construct an original and cost-effective solution to present your story. We offer budget-friendly solutions for individuals who don't need all the bells and whistles that come with larger websites.
If you are looking for a cost-effective website design, Website Adelaide offers an original and affordable solution. Whether you need a small business website or something more extensive, we have the perfect plan for your story. We also offer budget-friendly solutions for individuals who don't need all the bells and whistles that come with larger websites.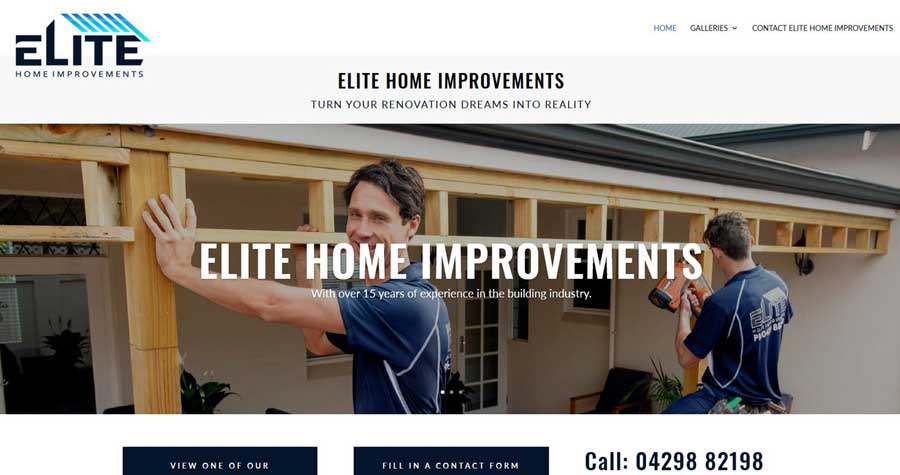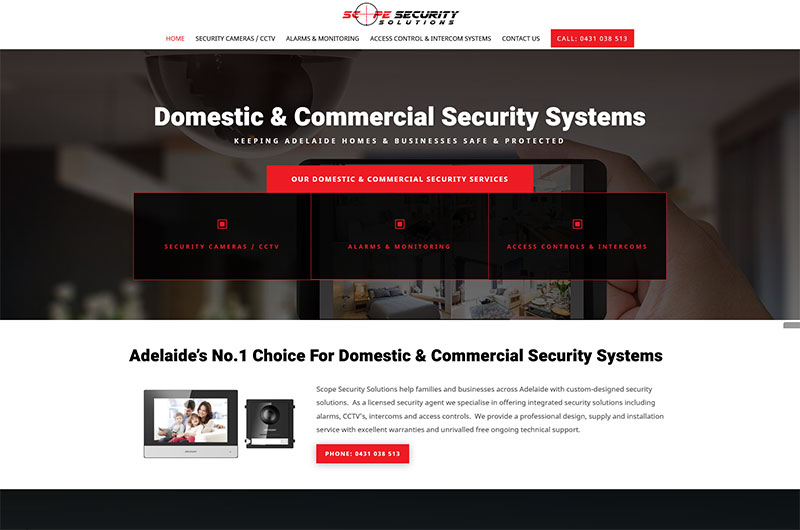 What's included in the website prices
Website built in WordPress
We will install and set up WordPress on your server / website hosting.
Your website will be responsive website design (mobile friendly website) and work and look nice on all devices.
A WordPress website can grow endlessly. You will be able to add as many pages as you like and whenever you like.
You will have access to the back-end and full administration right once it is launched.
You will be able to make text/copy changes yourself on your pages if you want to.
You will be able to upload images, videos and pdf files.
Since you will be the sole owner of the website and the hosting is/will be in your name, you will be able to do anything you like with the website. For example, you might even like to add a shop system / eCommerce system to your website one day.
Pages of your website
You will need to provide us with the text content for all your pages on the website before building.
If you would like help writing the text content for your website, we can offer this service too.
The website can grow endlessly at any point. If you want Website Adelaide to add pages, ask for a quote.
One page can have a maximum of 1000 words. If there are more words, they can still be displayed on 1 page but counted as two pages in this quote.
We include a maximum of 2 free revisions of text content on the website for the sole trader price and four rounds in the small business package price.
If initial supplied text content needs to be substantially altered or repeatedly changed during the website build, there will be a surcharge of $75 per hour to finalise the page/pages.
Contact forms
You can have the same contact form on as many pages as you like.
The contact form can include Name, Email, Message box and up to 5 more questions.
For more customised forms with special requirements, please ask for a quote.
Slideshow
We will include one slideshow with a maximum of five images provided by you.
We can source five images for you, but it can be difficult for us to know what you want. We will do our best and source five images after discussing with you your requirements.
Social media
We can add links to social media such as Facebook, Linked In, Twitter, Instagram and more, and up to 5 links are included.
You need to provide us with the links/URLs to those pages.
Google map
We can include a live Google map on your website showing your or one location on as many pages as you like of your website.
You need to provide us with the exact address of the location.
Navigation menu
We include one main menu on your website.
We also include one small menu at the very top of the screen that can have a phone number, email, links to more important pages and/or social media. 
We can include 1 footer menu at the bottom of the website.
Images / photos
To make your website more attractive, we will include and do our best to find up to 5 free stock images. If they are not what you like, we will ask you to provide some of your own.
It is your responsibility to ensure you deliver images that you have the right to use on your website. For example, it's illegal to use images from other websites and Google without permission.
We will build every page with a maximum of 6 images provided by you per page. It's excellent if you have some photos of your own as this gives the website good credibility and will be appreciated by your customers. 
On a gallery page, we include up to 20 images. You will be able to add as many photos as you like yourself.
Image files for websites are: JPG, GIF and PNG files
PDF files are not images and can't be used as an image unless they are converted. Please ask for a quote.
PDF files can be linked to and preferably open a new browser window. 5 PDF links per page are included. If you need more, please ask for a quote.
If you need more images inserted by us, please ask for a quote.
Support
We will always be here for support, and we include 3 months' email support of existing content.
We will teach/show how to update, make changes to text content and add blog/news on the website using Skype or Zoom and 60 min is included.
Search engine optimisation - SEO
WordPress is one of the most used web design programs and very SEO friendly, meaning the search engines like the system and its code.
We install a plugin for good SEO. With this plugin, we/you will customise what information Google and other search engines understand about your website. This information is called Meta Titles, and Meta Description, which can be customised and unique for every page. 
We will keep your keywords and keyword phrases in mind while building your website and implement the best on-page SEO we can. This means that we might suggest a different heading and especially add headings and titles to your pages. If you ask us to change them and/or remove them, you might be making your website less attractive to the search engines in regards to your keywords.
We rely on the text and content you provide to us, and from your content, we will find your keyword phrases and work with them.
Terms & Conditions | Legal Policies
What is the website design process?
Launching a website can feel like a huge project. I will try to make it as smooth and easy as possible.
Send Website Adelaide your logo if you have one
We need your logo to make sure that the font and colours of the website go well with your branding.
If you don't have a logo, that's not a problem.
If you would like a logo we do provide this service through Adelaide Advertising. A logo design package cost from $250.
Text also called copy for your website
Send through all the text for your pages. The text should ideally be just plain text, no styling or layout, in a word document. 
If you plan to use Colette for the copy writing service, then you do not need to worry about this step. Colette will send Website Adelaide all the text in the right format when it is approved and signed off by you. 
Images and photos of your website
A website that uses authentic photos will always stand a much greater chance of getting trust from clients and Google. If you have good pictures of yourself and in a business situation, every study shows that prospective clients are more likely to call you. 
Please note that picking images off Google is illegal, and companies worldwide specialise in tracking illegally used shots. 
Your Preferred website design
If you have a website style you prefer and like, please send the link to that particular website. The website does not have to be in the same field or business as yours, but it will still give me a good idea of what you like and prefer. If you have competitors in the same industry and think you would like something similar only better, that will also be a good guideline. 
Pay the deposit
I will send you an invoice for a $300 deposit that I would like you to pay before starting. When you are happy with the whole website and ready for it to be launched or handed over to you, you will be sent the invoice for the final payment. 
Now I can get started on your website project
When all the above is in place, I will start building your website and hope that you will be happy to get back to me as quickly as possible with feedback on the design and the progress. I aim to launch your website within 2-3 weeks; however, that depends on you coming back to me when I send you emails. 
Online meetings
To keep the cost low for my web design prices, I prefer having online and phone meetings. With online sessions, we can share screens and discuss things if you would like to. It is very time-efficient, and we can even record our call.
I can also work by a phone conversation and edit on the website in real-time, so you will see my changes while talking and discussing things you would like me to change. It is very time efficient and a great way to get your website up and running in such a short space of time!
Would you please send me your very final text version
It is pretty normal to have a few text changes once you see it up on the website. However, I ask you to read your text content carefully, so there are not many changes. A website page is not a page where we copy-paste all text in one big block; instead, even every heading can be its own text box and therefore, it can be a very time-consuming process to make many text changes.
Website project usually takes 2-3 weeks
When I start the website project, I work fast and efficiently by focusing on all aspects of the website. I will always have a few projects running parallel. However, to offer these affordable prices, I need to make sure that the project does not run for too long. I expect you to come back to me with feedback as soon as you can. Occasionally some clients can't complete the website project within a reasonable timeline. This may be due to unexpected events. On those occasions, I will have to settle the project with final payment, and we will pick up any services when the client is ready to come back and work on the project again. 
Every website needs hosting and a domain name
I am delighted to introduce you to Joel Willams, owner of dezyne.net hosting here in Adelaide and start that process. 
The hosting package cost $66 per year, and that includes a control panel to set up as many emails as you like, SSL hosting, virus protection (if your website would ever get affected by a virus, it would be removed for you at no cost) and a lot more. This hosting package is excellent value for a great web hosting package and service. 
Joel can also help with registering the domain name, so you have both hosting and domain name with one business. A .com.au address costs approximately $20 / year but is paid for every two years, so the fee will be around $40 when you register. 
Joel will send me a login to your hosting when all is set up. 
If you already have a domain name and a hosting package, I will need a login to your hosting service where I build your website.