Single page website, also called one page website
If you don't have much website text and information, then a single page website could be a good start for you.
Single page website design
Single page websites / or sometimes called landing pages, are getting more and more popular. A single page website is particularly good for a business that just needs something up and running quickly to have some sort of internet presence, but they are also user friendly when people visiting the website from a mobile or a smaller device. Instead of having to click on the menu to visit another page, they will just be able to scroll and stay on the same page.
With a single page website, you can focus on quality and not quantity.
Single page websites are, therefore:
Good for smaller websites and websites with very little text content
Better SEO when the website does not have more than 500 words per page.
Better user experience as there are not many pages to navigate to.  Instead, all information will be on one page.
Mobile friendly as the visitor does not have to keep changing page
The website can easily grow in the future
Google likes a website that is a few years old and not a new one. Register a domain name, build a single page website as soon as you can, and in time build a bigger website to rank higher in Google. Plan for the future!
Example of what a single page website could look like and what content it could have.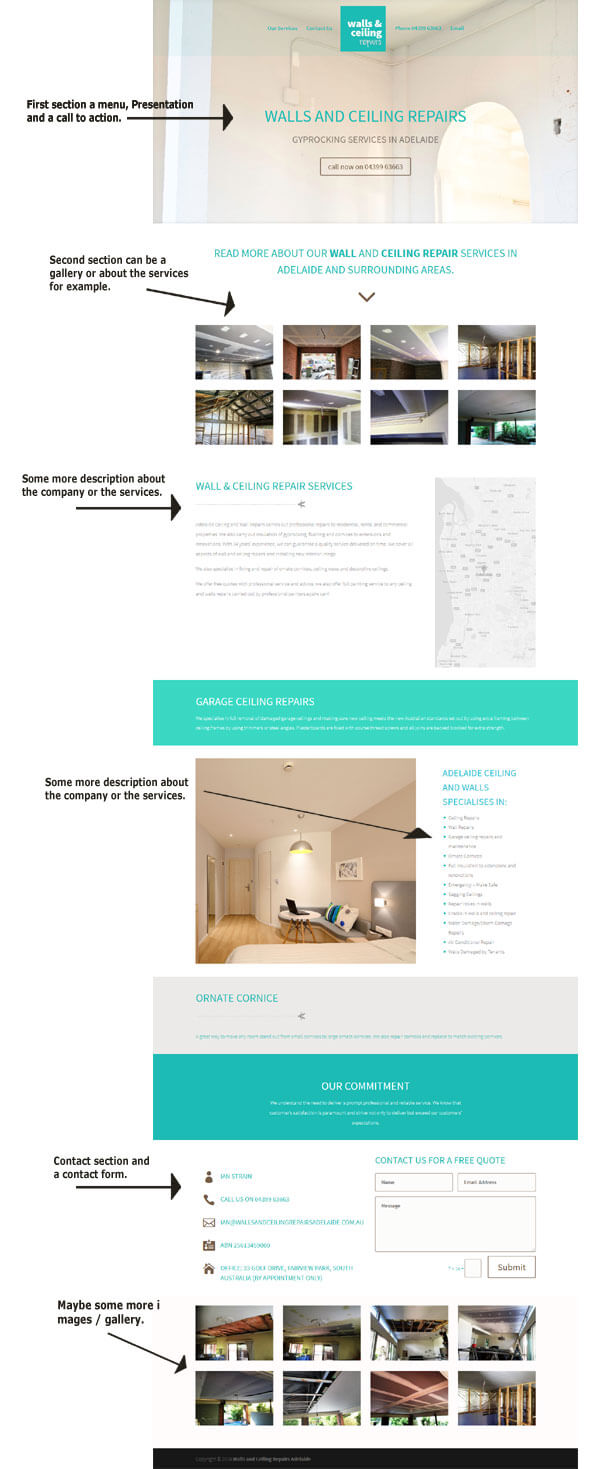 This is what's included in a single page website
SINGLE PAGE WEBSITE
Web design for small businesses
Installation and build of a website in WordPress

The WordPress website can grow endlessly and is one of the most used systems for web design

Website will be fully responsive and working nicely on mobiles and any other devices.

You will have access to the back-end and full administration right once it is launched

Easy to administer, add and change content to the website

Website will be designed and customised to match the tone and feel of your business profile and logo

1 long single page website with all the text/copy info about business

A contact form

A live Google map

A gallery with up to 20 images

1 slideshow with up to 5 images

1 main menu at the top to navigate quickly down on the page

Links to social media such as Facebook, LinkedIn, Twitter, Google+ and more. Up to 5 links included.

We source up to 5 free stock images

2 free revisions of text content included

SEO – plugin installed for good meta description and title

Search engine friendly xml sitemap created and submitted to Google

3 months email support of existing content

Fast turn around – completion of website is max 2 weeks once all text / copy and images received

If you need anything else, please contact us!
Other costs?
Running costs and maintenance
Domain name for your website (com.au is 20 dollars per year)

Hosting for your website, this is where you website will be placed/hosted. Hosting package vary and we highly recommend Joel Williams for Dezyne in Adelaide who charges $66/year.  http://dezyne.net/services/ for best hosting and as many emails as you like and more.

Updates and support after 3 months. Things on the internet is constantly changing and updating, and so does the WordPress system. Frequency of the update will depend on how many plugins your website uses, but minimum 2 times per year is recommended with an overall update and look. Ask for quote. We are looking into the option of a yearly contract for maintenance.

Updating your content such as text on your pages is something you will be able to do yourself. If you want us to do this, we are happy to help. Just plain text changes on 1 page is max $50 (1 hour work).

$50 per hour for any maintenance work. We are happy to quote and fix a price for any job.
Examples of single page websites
Some of the websites below, might have grown and pages can easily be added to any sized website.
Get In Touch. Request a website quote.
Contact Website Adelaide for a quote to build a new website. If you have an old and tired looking website that is not working well, not responsive and you are looking for a fresh start, send me a note and I get back to you asap.
Get a quote for a new website or a redesign of an existing website.