Building your business website doesn't have to be so hard.
Build a beautiful business website without any coding!
Drag and drop, click and create and maybe use a beautiful fee layout. Divi theme is for me a dream come true after more than 10 years of coding.
Divi from Elegant Themes, the leading WordPress website theme and builder.
As a website design agency for small businesses in Adelaide, Website Adelaide is only using Divi themes when building clients websites. It's been a natural and only choice since early on in my website business.
Initially, I used different WordPress themes but found them very limited, very structured and the flexibility was just not there.
When I came across and built my first website with Divi about 6 years ago, I never looked back. In fact, I have built around 300 websites with Divi and know the system very well. My clients can ask for almost any design and Divi allows me to create what they envision. It's so flexible and great to work with!
I use Divi so my clients can update their websites
Many of my clients love Divi. I show them how it works and they start using the system and some end up building their own website pages. This is a wish some of my clients have when we start the website project, be able to add pages, make changes and keep developing the website and keep it up to date.
Since I found Divi, there are a few new good themes on the market, but the beauty of having a theme that is so broadly used is that there's always someone who can help. Divi has a big and very helpful community on Facebook groups and over 80 people with Divi / Elegant themes to support you if you have any questions. You can be sure that purchasing Divi is a good investment.
With its high-end quality page layouts, super informative resources, tutorials and friendly themes, Divi is a must have for any company considering to develop a website.
Interestingly enough, looking at websites built by many of the website agencies around Adelaide and South Australia, that it's getting very common to see that the websites rest on a Divi platform. This doesn't surprise me at all, as so many of us have fallen in love with this theme.
WorldPress Divi visual builder from Elegant Theme. 
There are over 2 million websites built with Divi and it is one of the biggest WordPress themes available.
Use Divi WordPress visual building technique to make your website look amazing.
Divi allows you to design and customise every part and detail of your website. You have control over everything down to the finest detail.
If you are new to building websites, the world's most popular theme gives you an effective way to create superior design with ease of use.
You don't need to know how to code, it's all done for you, and there are no plug-ins needed for a standard website with the most used interactive features such as optin box, contact forms, Google maps and much more.
There is a module for everything in Divi!
Imagine how easy it can be. Just select from:
Call to actions
Blogs
Sliders
Galleries
Forms
Testimonials
And 40 more modules to choose from.
Top 4 benefits with WordPress Divi theme from Elegant Themes
Drag & Drop
It is easy to use and move elements around modules, sections and rows in Divi.
Visual editing in real-time
Divi lets you see your result instantly when creating your pages
Responsive editing
With 50% mobile use you can ensure your the responsive design looks great in any mobile device. If something needs adaptation for any device, it is easy to adjust in Divi.
Save and manage all your designs
Divi offers unlimited changes to your designs and saving them in a library. This makes it easy to reinstate your top ones when you need them the most.
Kick-start your creative mind with over 800 free and pre-made website design layouts
Whatever website design interest area you have there are so many free designs available to choose from if you like. This will give you great ideas, or to use as they are, and will improve your effectiveness when building websites.
The WordPress Divi designs from Elegant Themes are easily accessible and can be search in different categories including Art & Design, Business, Community & Non-Profit, Education, Events, Fashion & Beauty, Food & Drink, Health & Fitness, Lifestyle, Online Store ,Services, Simple and Technology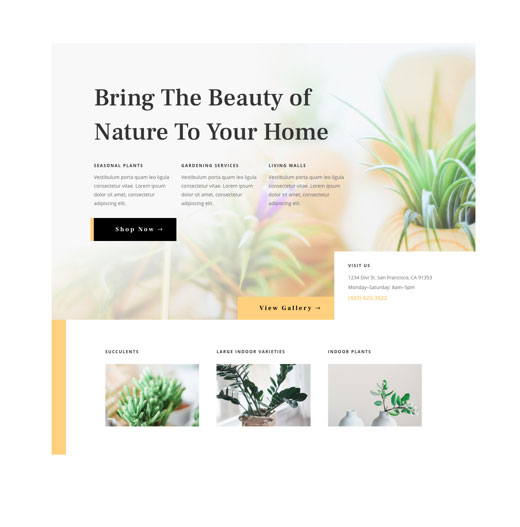 From new starters to professionals, from website developers to large agencies – WordPress Divi Theme offers benefits to everyone.
Divi theme caters for everyone. If you are new to building websites, then you have so many pre-made designs to choose from with super nice images, illustrations and graphics.
If you are an agency, well, then you will be able to build great looking websites while improving your efficiency across the website build.
Don't wait, sign up now, and get started with the world leading WordPress Divi from Elegant Themes.